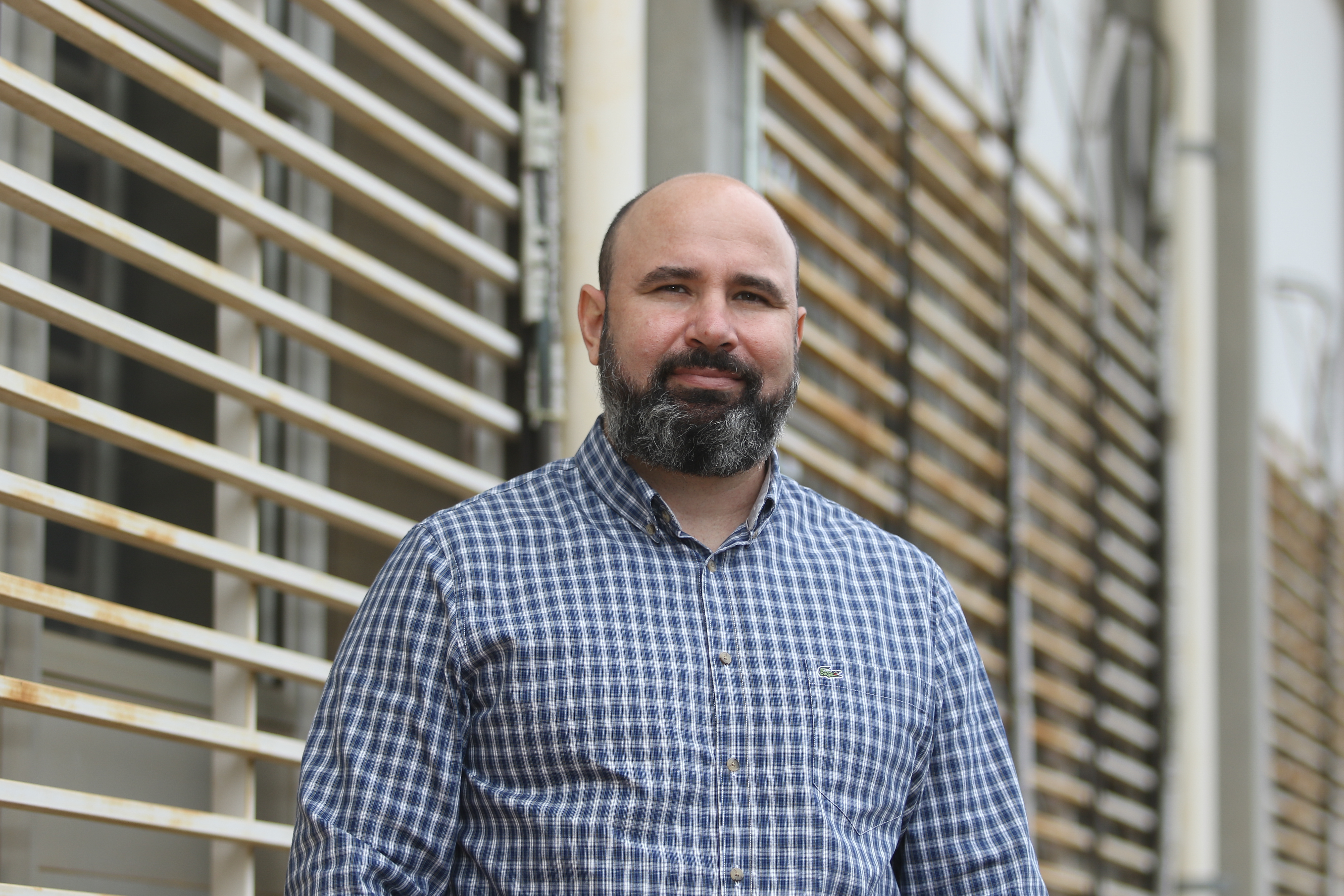 Leonardo Vasconcelos Fregolente
Possui graduação em Engenharia Química pela Universidade Estadual de Maringá (2003), mestrado em Engenharia Quimica - Unicamp pela Universidade Estadual de Campinas (2006) e doutorado em Engenharia Química pela Universidade Estadual de Campinas (2009). Realizou curso de especialização em processamento de petróleo junto a Universidade Estadual do Rio de Janeiro em parceria com a Petrobras e trabalhou por 11 anos como engenheiro de processamento de petróleo na empresa Petróleo Brasileiro SA (PETROBRAS). Desde 2017 é professor da Faculdade de Engenharia Química da Universidade Estadual de Campinas e, atualmente, é Professor Associado e Livre Docente. De 2020 a 2021, fez seus pós-doutoramento no Department of Chemical and Materials Engineering na University of Alberta, Canadá. 
Tem coordenado e participado de diversos projetos de pesquisa em parceria com o setor industrial e com agências públicas de fomento à pesquisa. A exemplo disso, atualmente coordena um projeto de Auxílio Regular FAPESP na área de remoção de água em combustíveis, é coordenador de Educação e Difusão do Conhecimento do Centro de Engenharia de Plasticultura FAPESP-BRASKEM (em implementação) e faz parte da Diretoria Executiva da Unidade Embrapii da de Energias Renováveis da FEQ/UNICAMP (em credenciamento). Desde maio de 2022, é Diretor Associado da Faculdade de Engenharia Química da UNICAMP.
Currículo Lattes:
http://lattes.cnpq.br/0146291251418497
E-mail: leovf@unicamp.br
Ramal: 13890
Laboratório(s) de pesquisa:
Laboratório de Otimização, Projetos e Controle Avançado - Divisão de Fermentação (LOPCA-REF-BIORREF)
O objetivo deste laboratório é realizar atividades de pesquisa nas áreas de processamento de petróleo e logística de distribuição de óleo cru e derivados, assim como desenvolver novos produtos e processos para biorrefinarias. Na área de refino e logística de petróleo e derivados, estudos computacionais e experimentais têm sido realizados nas áreas de operações de separação com transferência de massa, operações de blending e controle de qualidade de combustíveis. Na área de biorrefino, têm sido desenvolvidos processos que visam a integração de diferentes unidades de processamento de biomassa para a produção de produtos de alto valor agregado.
Publicações mais recentes (últimos 5 anos):

Effects of cultivation systems and nutrient limitation on the growth and metabolite biosynthesis of Botryococcus terribilis. Ramos, B. P.. Pinto, L. F. R.. MACIEL FILHO, R.. FREGOLENTE, L.V.. . Biomass Conversion And Biorefinery 2023, 00, 00-
---
Sodium Polyacrylate Hydrogel Fixed Bed to Treat Water-Contaminated Cloudy Diesel. FREGOLENTE, L.V.. GONCALVES, H. L.. FREGOLENTE, Patricia Bogalhos Lucente. MACIEL, M. R. W.. Soares, J.. . FUEL 2023, 332, 125953-
---
Application of Multivariate Exploratory Techniques to Predict Kinematic Viscosity of Biodiesel from Vegetable and Algae Oils. Santos, S. M.. Wolf Maciel, M. R.. FREGOLENTE, L.V.. . CHEMICAL ENGINEERING TRANSACTIONS 2022, 92, 739-744
---
Application of Poly(acrylamide-co-acrylonitrile) Hydrogel to Remove Soluble Water from Biodiesel and Evaluation in the Control Mechanism of the Mass Transfer Process in an Adsorption Process. SANTOS, F. B.. Perez, I. D.. FREGOLENTE, L.V.. MACIEL, M. R. W.. . CHEMICAL ENGINEERING TRANSACTIONS 2022, 92, 487-492
---
Diethyl Carbonate Production from CO2 and Ethanol in an Isothermal Pfr via Aspen Plus Simulation. Ramos, V. H. S.. MIRANDA, N. T.. LUNELLI, B. H.. MACIEL FILHO, R.. FREGOLENTE, L.V.. MACIEL, M. R. W.. . CHEMICAL ENGINEERING TRANSACTIONS 2022, 92, 343-348
---
Growth and Metabolite Production in Chlorella sp.: Analysis of Cultivation System and Nutrient Reduction. Ramos, B. P.. Pinto, L. F. R.. MACIEL FILHO, RUBENS. FREGOLENTE, L.V.. . BioEnergy Research 2022, , online-
---
Lipid Extraction from Scenedesmus sp. Followed by Purification using Column Chromatography. FERREIRA, G. F.. RÍOS PINTO, L.F.. MACIEL FILHO, R.. FREGOLENTE, L.V.. . CHEMICAL ENGINEERING TRANSACTIONS 2022, 92, 25-30
---
Maximizing unsaturated fatty acids production by using sugarcane agroindustry wastes in cultivation of Desmodesmus sp. in a flat plate photobioreactor. FERREIRA, GABRIELA FILIPINI. PINTO, LUISA FERNANDA RÍOS. Filho, Rubens Maciel. Fregolente, Leonardo Vasconcelos. . JOURNAL OF BIOTECHNOLOGY 2022, 360, 117-124
---
Polymer hydrogel for water removal from naphthenic insulating oil and marine diesel. Perez, I. D.. SANTOS, F. B.. MIRANDA, N. T.. VIEIRA, M. G. A.. FREGOLENTE, L.V.. . FUEL 2022, 324, 124702-
---
Potential applications of Botryococcus terribilis: A review. Ramos, B. P.. Pinto, L. F. R.. MACIEL FILHO, RUBENS. FREGOLENTE, L.V.. . BIOMASS & BIOENERGY 2022, 165, 106582-
---
Application of polyacrylamide-based hydrogels for water removal from biodiesel in isothermal experiments. GONCALVES, H. L.. FREGOLENTE, Patricia Bogalhos Lucente. FREGOLENTE, L.V.. Soares, J.. . FUEL 2021, 306, 121713-
---
Development of a Hydrogel Column for Water Removal from Fuels. GONCALVES, H. L.. FREGOLENTE, PATRICIA B.L.. De Andrade, G. M.. MACIEL, M. R. W.. FREGOLENTE, L.V.. . CHEMICAL ENGINEERING TRANSACTIONS 2021, 86, 1117-1122
---
Effects of cultivation conditions on Chlorella vulgaris and Desmodesmus sp. grown in sugarcane agro-industry residues. FERREIRA, G. F.. Pinto, L. F. R.. MACIEL FILHO, R.. FREGOLENTE, L.V.. . BIORESOURCE TECHNOLOGY 2021, , 125949-
---
Kinematic Viscosity Prediction Guide: Reviewing and Evaluating Empirical Models for Diesel Fractions, and Biodiesel-Diesel Blends according to the Temperature and Feedstock. Santos, S. M.. FREGOLENTE, L.V.. . International Journal of Thermophysics 2021, 42, 1-40
---
Mono- and diglyceride production from microalgae: Challenges and prospects of high-value emulsifiers. FERREIRA, GABRIELA FILIPINI. PESSOA, JOSÉ GABRIEL BARRETO. PINTO, LUISA FERNANDA RÍOS. Filho, Rubens Maciel. Fregolente, Leonardo Vasconcelos. . TRENDS IN FOOD SCIENCE & TECHNOLOGY 2021, 118, 589-600
---
Screening of Hydrogels for Water Adsorption in Biodiesel using Crosslinked Homopolymers. Dourado, M. L.. FREGOLENTE, Patricia Bogalhos Lucente. MACIEL, M. R. W.. FREGOLENTE, L.V.. . CHEMICAL ENGINEERING TRANSACTIONS 2021, 86, 1129-1134
---
Techno-economic assessment of HTL integration to the Brazilian sugarcane industry: An evaluation of different scenarios. DEUBER, R. S.. Fernandes, D. S.. BRESSANIN, J. M.. Watson, J.. CHAGAS, M. F.. Bonomi, Antonio. FREGOLENTE, L.V.. Watanabe, M. D. B.. . INDUSTRIAL CROPS AND PRODUCTS 2021, 173, 114139-
---
Formulation of hydrogels for water removal from diesel and biodiesel. GONCALVES, H. L.. FREGOLENTE, Patricia Bogalhos Lucente. MACIEL, M. R. W.. L. V., FREGOLENTE. . SEPARATION SCIENCE AND TECHNOLOGY 2020, 1, 1-15
---
Study of the Kinetics Swelling of Poly(Acrylamide-CoAcrylonitrile) Hydrogel for Removal of Water Content from Biodiesel. SANTOS, F. B.. Perez, I. D.. GOMEZ, G. T.. VIEIRA, M. G. A.. FREGOLENTE, L.V.. MACIEL, M. R. W.. . CHEMICAL ENGINEERING TRANSACTIONS 2020, 80, 265-
---
Thermal degradation kinetic of poly(acrylamide-co-sodium acrylate) hydrogel applying isoconversional methods. SANTOS, F. B.. MIRANDA, N. T.. Schiavon, M. I. R. B.. FREGOLENTE, L.V.. MACIEL, M. R. W.. . JOURNAL OF THERMAL ANALYSIS AND CALORIMETRY 2020, 00000, 00000-
---
A review on lipid production from microalgae: Association between cultivation using waste streams and fatty acid profiles. FERREIRA, G.F.. RÍOS PINTO, L.F.. MACIEL FILHO, R.. FREGOLENTE, L.V.. . RENEWABLE & SUSTAINABLE ENERGY REVIEWS 2019, 109, 448-466
---
Biomass and lipid characterization of microalgae genera Botryococcus, Chlorella, and Desmodesmus aiming high-value fatty acid production. FERREIRA, G. F.. CARVALHO, PATRICIA O.. B., C. M.. EBERLIN, M. N.. Pinto, L. F. R.. MACIEL FILHO, R.. FREGOLENTE, L.V.. . BIOMASS CONVERSION AND BIOREFINERY 2019, 1, 1-1
---
Evaluation of Different Types of Hydrogels for Water Removal from Fuels. Paula, C. D.. FERREIRA, G. F.. Pinto, L. F. R.. FREGOLENTE, PATRICIA B.L.. MACIEL FILHO, R.. L. V., FREGOLENTE. . CHEMICAL ENGINEERING TRANSACTIONS 2019, 74, 889-894
---
Flash point prediction: Reviewing empirical models for hydrocarbons, petroleum fraction, biodiesel, and blends. SANTOS, SHELLA M.. NASCIMENTO, DEBORA C.. COSTA, MARIANA C.. NETO, ANTONIO M.B.. FREGOLENTE, LEONARDO V.. . FUEL 2019, -, 116375-
---
Microalgal Biomass as a Source of Polyunsaturated Fatty Acids for Industrial Application: a Mini-Review. FERREIRA, GABRIELA F.. Pinto, L. F. R.. MACIEL FILHO, RUBENS. L. V., FREGOLENTE. . CHEMICAL ENGINEERING TRANSACTIONS 2019, 74, 163-168
---
Laboratory extraction of microalgal lipids using sugarcane bagasse derived green solvents. DE JESUS, SÉRGIO S.. FERREIRA, GABRIELA F.. FREGOLENTE, LEONARDO V.. MACIEL FILHO, RUBENS. . Algal Research-Biomass Biofuels and Bioproducts 2018, 35, 292-300
---
Project-Based Learning Applied to Distillation and Absorption Education: Integration Between Industry and a Chemical Engineering Undergraduate Course. FREGOLENTE, L. V.. VENTURELLI, H. C. A.. RODRIGUES, J.. SILVA, E. M.. DINIZ, I. S.. MACIEL, M. R. W.. . CHEMICAL ENGINEERING TRANSACTIONS 2018, 69, 427-432
---
Swelling Degree and Diffusion Parameters of Poly(Sodium Acrylate-Co-Acrylamide) Hydrogel for Removal of Water Content From Biodiesel. FREGOLENTE, PATRICIA B.L.. GONCALVES, H. L.. MACIEL, M. R. W.. FREGOLENTE, L. V.. . CHEMICAL ENGINEERING TRANSACTIONS 2018, 65, 445-450
---
Projetos em andamento:
| Titulo | Linha | Área |
| --- | --- | --- |
| DESENVOLVIMENTO DE PROCESSOS E PRODUTOS DE BIORREFINO E REFINO DE PETRÓLEO | SÍNTESE, ANÁLISE E OTIMIZAÇÃO DE PROCESSOS | ENGENHARIA QUÍMICA |
| PRINT - PROGRAMA INSTITUCIONAL DE INTERNACIONALIZAÇÃO (CAPES/PRINT - EDITAL Nº 41/2017) - PROJETO E DESENVOLVIMENTO DE PRODUTOS E PROCESSOS EMPREGANDO DIFERENTES TIPOS DE BIOMASSAS VEGETAIS COMO MATÉRIAS-PRIMAS E INSUMOS | PROJETO ISOLADO | ENGENHARIA QUÍMICA |
| MODERNIZAÇÃO E INCORPORAÇÃO DE NOVAS FUNCIONALIDADES AO SOFTWARE CALCPROC - SUPRIMENTO DE MACROS PARA CÁLCULO DE PROCESSAMENTO DE ÓLEO E GÁS CALCPROC | SÍNTESE, ANÁLISE E OTIMIZAÇÃO DE PROCESSOS | ENGENHARIA QUÍMICA |
| DESENVOLVIMENTO DE TECNOLOGIA PARA REMOÇÃO DE ÁGUA DE COMBUSTÍVEIS LÍQUIDOS UTILIZANDO HIDROGÉIS | SÍNTESE, ANÁLISE E OTIMIZAÇÃO DE PROCESSOS | ENGENHARIA QUÍMICA |
| DESENVOLVIMENTO INTEGRADO DE BIORREFINARIA E PLANTA DE BIOETANOL DE CANA-DE-AÇÚCAR COM EMISSÃO ZERO DE CO2: ROTAS PARA CONVERTER RECURSOS RENOVÁVEIS EM BIOPRODUTOS E BIOELETRICIDADE | SÍNTESE, ANÁLISE E OTIMIZAÇÃO DE PROCESSOS | ENGENHARIA QUÍMICA |
| FRACIONAMENTO DE BIO-ÓLEO | PROCESSOS DE SEPARAÇÃO | ENGENHARIA QUÍMICA |
| DESENVOLVIMENTO DE LEITOS DE HIDROGEL DE ALTO DESEMPENHO PARA REMOÇÃO DE ÁGUA DE COMBUSTÍVEIS LÍQUIDOS | SÍNTESE, ANÁLISE E OTIMIZAÇÃO DE PROCESSOS | ENGENHARIA QUÍMICA |
| TECNOLOGIAS DE PRODUÇÃO E PROCESSOS PARA REFINO DE PETRÓLEO | TERMODINÂMICA | ENGENHARIA QUÍMICA |
| DESENVOLVIMENTO DE TECNOLOGIA PARA REMOÇÃO DE CONTAMINAÇÃO POR ÁGUA EM ÓLEO UTILIZANDO HIDROGÉIS. | SÍNTESE, ANÁLISE E OTIMIZAÇÃO DE PROCESSOS | ENGENHARIA QUÍMICA |
| DESENVOLVIMENTO DE NOVOS PROCESSOS DE SEPARAÇÃO DE ÁGUA EM BIODIESEL E MISTURA BIODIESEL/DIESEL APLICANDO-SE HIDROGÉIS SINTÉTICOS ENXERTADOS COM NANOCRISTAIS DE CELULOSE | SÍNTESE, ANÁLISE E OTIMIZAÇÃO DE PROCESSOS | ENGENHARIA QUÍMICA |
| CRIAÇÃO DO CENTRO DE ENGENHARIA DE PLASTICULTURA | SÍNTESE, ANÁLISE E OTIMIZAÇÃO DE PROCESSOS | ENGENHARIA QUÍMICA |
| EIXO VI BIOENERGIA DO CENTRO PAULISTA DE ESTUDOS DA TRANSIÇÃO ENERGÉTICA (CPTEN) | TERMODINÂMICA | ENGENHARIA QUÍMICA |
| DESENVOLVIMENTO DE FORMULAÇÕES ORAIS PARA LIBERAÇÃO MODIFICADA DE FÁRMACOS À BASE DE MATRIZ POLIMÉRICA DE SERICINA E K-CARRAGENINA | ENGENHARIA AMBIENTAL | ENGENHARIA QUÍMICA |
| M/D/PD | Orientações em andamento: |
| --- | --- |
| M | Clarissa Dantas Paula |
| D | Gabriela Filipini Ferreira |
| M | Gerlison Timoteo Gomes |
| M | Henrique Luiz Gonçalves |
| D | Isadora Dias Perez |
| M | Marcelo De Luccas Dourado |
| M | Shella Maria dos Santos |