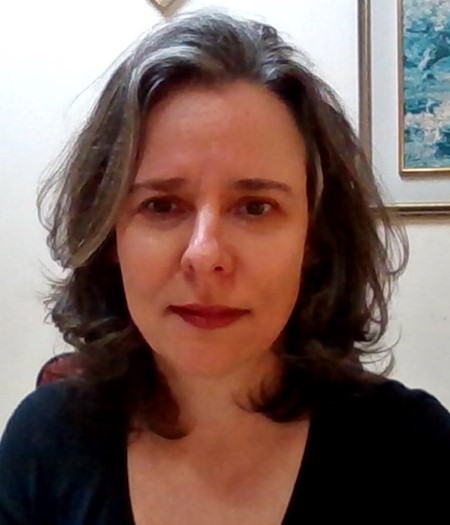 Menu:
Lucimara Gaziola de la Torre
Possui graduação (1994), tendo sido a primeira colocada em desempenho acadêmico na sua turma e doutorado direto (2006) em Engenharia Química pela Universidade Estadual de Campinas. Atua como Professora Doutora, no Departamento de Engenharia de Materiais e Bioprocessos, da Faculdade de Engenharia Química da UNICAMP (Novembro de 2009). Realizou estágio e missão de pesquisa na École Polythechnique (Paris) (2015), no National Institute of Standards and Technology (NIST) em Gaithersburg, Estados Unidos (Julho 2012) e no Institute of Technical Biochemistry (ITB) em Stuttgart na Alemanha (1995). Possui experiência na indústria, atuando no setor alimentício, em especialidades químicas e em processos biotecnológicos (1995-2001). Sua pesquisa tem ênfase no desenvolvimento de processos biotecnológicos, atuando nas áreas de nano&biotecnologia, objetivando a veiculação de biofármacos, bioativos e vacinas de DNA e RNA em estruturas lipossomais, em nano/micro partículas obtidas a partir de biopolímeros naturais. Desenvolve processos na área de microfluídica para a síntese de nanoestruturas com aplicação médica e também para avaliação do comportamento de células microbianas e de mamíferos, visando a obtenção de parâmetros cinéticos, "screening" de fármacos e "organ-on-a-chip".
Currículo Lattes:
http://lattes.cnpq.br/1842041720994601
E-mail: ltorre@unicamp.br
Ramal: 10397
Laboratório(s) de pesquisa:
Laboratório de Nano & Biotecnologia para Desenvolvimento Avançado (LANBDA)
Pesquisa com ênfase no desenvolvimento de produtos e processos biotecnológicos, atuando principalmente na área de nanobiotecnologia. O principal foco é o estudo da veiculação de biofármacos, tais como DNA ou RNA em vetores não-virais e o desenvolvimento de seus processos escalonáveis, para aplicações em vacinação e terapia gênica.
Publicações mais recentes (últimos 5 anos):

Advanced Microfluidic Technologies for Lipid Nano-Microsystems from Synthesis to Biological Application. CARVALHO, BRUNA G.. CECCATO, BRUNO T.. MICHELON, MARIANO. HAN, SANG W.. DE LA TORRE, LUCIMARA G.. . PHARMACEUTICS 2022, 14, 141-
---
Double T-junction microfluidic and conventional dripping systems for Bacillus subtilis immobilization in calcium alginate microparticles for lipase production. OLIVEIRA, ALINE F.. BASTOS, REINALDO G.. DE LA TORRE, LUCIMARA G.. . ENZYME AND MICROBIAL TECHNOLOGY 2022, 154, 109976-
---
3D micromixer for nanoliposome synthesis: a promising advance in high mass productivity. FIRMINO, PRISCILLA C. O. S.. VIANNA, SÁVIO S. V.. DA COSTA, OHANNA M. M. M.. MALFATTI-GASPERINI, ANTÔNIO A.. GOBBI, ANGELO L.. LIMA, RENATO S.. DE LA TORRE, LUCIMARA G.. . LAB ON A CHIP 2021, 1, 1-
---
A modular, reversible sealing, and reusable microfluidic device for drug screening. VIT, FRANCIELE FLORES. NUNES, RONY. WU, YU TZU. PRADO SOARES, MARCO CÉSAR. GODOI, NAIARA. FUJIWARA, ERIC. CARVALHO, HERNANDES F.. GAZIOLA DE LA TORRE, LUCIMARA. . ANALYTICA CHIMICA ACTA 2021, 1185, 339068-
---
Hybrid microgels produced via droplet microfluidics for sustainable delivery of hydrophobic and hydrophilic model nanocarriers. de Carvalho, Bruna Gregatti. Taketa, Thiago Bezerra. GARCIA, BIANCA BONETTO MORENO. HAN, SANG WON. de La Torre, Lucimara Gaziola. . Materials Science & Engineering C-Materials for Biological Applications 2021, 118, 111467-
---
Hybrid polymer/lipid vesicle synthesis: association between cationic liposomes and lipoplexes with chondroitin sulfate. CARVALHO, BRUNA G.. GARCIA, BIANCA B. M. MALFATTI-GASPERINI, ANTONIO A.. HAN, SANG W.. DE LA TORRE, LUCIMARA G.. . COLLOIDS AND SURFACES B-BIOINTERFACES 2021, 210, 112233-
---
Layer-by-Layer Biomimetic Microgels for 3D Cell Culture and Nonviral Gene Delivery. CARVALHO, BRUNA G.. Vit, Franciele F.. CARVALHO, HERNANDES F.. HAN, SANG W.. DE LA TORRE, LUCIMARA G.. . BIOMACROMOLECULES 2021, 1, 1-
---
Microfluidic encapsulation of nanoparticles in alginate microgels gelled via competitive ligand exchange crosslinking. CINEL, VICTOR DAL POSOLO. Taketa, Thiago Bezerra. CARVALHO, BRUNA GREGATTI. Torre, Lucimara Gaziola. MELLO, LUCAS RODRIGUES. SILVA, EMERSON RODRIGO. HAN, SANG WON. . BIOPOLYMERS 2021, e23432, 1-
---
Microfluidics in Sickle Cell Disease Research: State of the Art and a Perspective Beyond the Flow Problem. AICH, A.. LAMARRE, Y.. SACOMANI, D. P.. KASHIMA, S.. COVAS, D. T.. DE LA TORRE, L.G.. . FRONTIERS IN MOLECULAR BIOSCIENCES 2021, 7, 1-17
---
Recent advances in co-delivery nanosystems for synergistic action in cancer treatment. CARVALHO, BRUNA GREGATTI. VIT, FRANCIELE FLORES. CARVALHO, HERNANDES FAUSTINO. HAN, SANG WON. de La Torre, Lucimara Gaziola. . Journal of Materials Chemistry B 2020, 1, 1-30
---
Bacillus subtilis immobilization in alginate microfluidic-based microparticles aiming to improve lipase productivity. OLIVEIRA, ALINE F.. BASTOS, REINALDO G.. DE LA TORRE, LUCIMARA G.. . BIOCHEMICAL ENGINEERING JOURNAL 2019, 143, 110-120
---
EVALUATION OF SILICA NANOPARTICLE COLLOIDAL STABILITY WITH A FIBER OPTIC QUASI-ELASTIC LIGHT SCATTERING SENSOR. SOARES, M. C. P.. GOMES, M. K. SCHENKEL, E. A. RODRIGUES, MATHEUS S.. SUZUKI, CARLOS KENICHI. DE LA TORRE, L.G.. FUJIWARA, ERIC. . BRAZILIAN JOURNAL OF CHEMICAL ENGINEERING 2019, 36, 1519-1534
---
High-throughput conventional and stealth cationic liposome synthesis using a chaotic advection-based microfluidic device combined with a centrifugal vacuum concentrator. E', ISMAIL. JOSE MONTEBUGNOLI, LEONARDO. FILIPPI, MARIA FERNANDA P.. MALFATTI-GASPERINI, ANTONIO A.. RADAIC, ALLAN. BISPO DE JESUS, MARCELO. GAZIOLA DE LA TORRE, LUCIMARA. . CHEMICAL ENGINEERING JOURNAL 2019, 382, 122821-
---
Ionic strength for tailoring the synthesis of monomodal stealth cationic liposomes in microfluidic devices. PERLI, GABRIEL. PESSOA, AMANDA C.S.N.. BALBINO, TIAGO A.. DE LA TORRE, LUCIMARA G.. . COLLOIDS AND SURFACES B-BIOINTERFACES 2019, 179, 233-241
---
Perfusion Microfermentor Integrated into a Fiber Optic Quasi-Elastic Light Scattering Sensor for Fast Screening of Microbial Growth Parameters. SOARES, MARCO CÉSAR PRADO. VIT, FRANCIELE FLORES. SUZUKI, CARLOS KENICHI. de La Torre, Lucimara Gaziola. FUJIWARA, ERIC. . SENSORS 2019, 19, 2493-
---
Single-step microfluidic production of W/O/W double emulsions as templates for β-carotene-loaded giant liposomes formation. MICHELON, MARIANO. HUANG, YUTING. de La Torre, Lucimara Gaziola. WEITZ, DAVID A.. CUNHA, ROSIANE LOPES. . CHEMICAL ENGINEERING JOURNAL 2019, 366, 27-32
---
Evaluation of siRNA and cationic liposomes complexes as a model for in vitro siRNA delivery to cancer cells. E', ISMAIL. de La Torre, Lucimara Gaziola. OK, MERYEM TYRRASCH. PUENTES-MARTINEZ, XIMENA E.. DE TOLEDO, MARCELO AUGUSTO SZYMANSKI. DE PINHO FAVARO, MARIANNA TEIXEIRA. CAVALCANTI, LEIDE PASSOS. CASSAGO, ALEXANDRE. PORTUGAL, RODRIGO VILLARES. AZZONI, ADRIANO RODRIGUES. . COLLOIDS AND SURFACES A-PHYSICOCHEMICAL AND ENGINEERING ASPECTS 2018, 555, 280-289
---
Perfusion microbioreactor system with permeable membranes to monitor bacterial growth. VIT, FRANCIELE FLORES. OLIVEIRA, ALINE FURTADO. OSÓRIO RODRÍGUEZ, DANIEL ANDRES. FAUSTINO DE CARVALHO, HERNANDES. LANCELLOTTI, MARCELO. de La Torre, Lucimara Gaziola. . JOURNAL OF CHEMICAL TECHNOLOGY AND BIOTECHNOLOGY 2018, 1, jctb.5814-
---
Tracking the Evolution of Transiently Transfected Individual Cells in a Microfluidic Platform. VITOR, MICAELA TAMARA. SART, SÉBASTIEN. BARIZIEN, ANTOINE. TORRE, LUCIMARA GAZIOLA DE LA. BAROUD, CHARLES N.. . Scientific Reports 2018, 8, 1225-
---
A step forward towards the design of a continuous process to produce hybrid liposome/protein microcapsules. GÓMEZ-MASCARAQUE, LAURA G.. CASAGRANDE SIPOLI, CAROLINE. GAZIOLA DE LA TORRE, LUCIMARA. LÓPEZ-RUBIO, AMPARO. . JOURNAL OF FOOD ENGINEERING 2017, 214, 175-181
---
Effects of Diffusion and Mixing pattern on Microfluidic-Assisted Synthesis of Chitosan/ATP Nanoparticles. PESSOA, AMANDA COSTA SILVA NORONHA. SIPOLI, CAROLINE CASAGRANDE. de La Torre, Lucimara Gaziola. . LAB ON A CHIP 2017, 17, 2281-2293
---
High-throughput continuous production of liposomes using hydrodynamic flow-focusing microfluidic devices. MICHELONMICHELON, MARIANO. OLIVEIRA, DAVI ROCHA BERNARDES. DE FIGUEIREDO FURTADO, GUILHERME. GAZIOLA DE LA TORRE, LUCIMARA. CUNHA, ROSIANE LOPES. . COLLOIDS AND SURFACES B-BIOINTERFACES 2017, 156, 349-
---
Integrated microfluidic devices for the synthesis of nanoscale liposomes and lipoplexes. BALBINO, TIAGO A.. SERAFIN, JULIANA M.. RADAIC, ALLAN. DE JESUS, MARCELO B.. DE LA TORRE, LUCIMARA G.. . Colloids and Surfaces. B, Biointerfaces (Print) 2017, 152, 406-413
---
Microencapsulation structures based on protein-coated liposomes obtained through electrospraying for the stabilization and improved bioaccessibility of curcumin. GÓMEZ-MASCARAQUE, LAURA G.. CASAGRANDE SIPOLI, CAROLINE. de La Torre, Lucimara Gaziola. LÓPEZ-RUBIO, AMPARO. . FOOD CHEMISTRY 2017, 233, 343-
---
Projetos em andamento:
| Titulo | Linha | Área |
| --- | --- | --- |
| PROCESSOS MICROFLUÍDICOS PARA APLICAÇÃO EM BIOTECNOLOGIA INDUSTRIAL | CIÊNCIA E ENGENHARIA DE BIOPROCESSOS E BIORECURSOS | ENGENHARIA QUÍMICA |
| SISTEMAS MICROFLUÍDICOS PARA A INCORPORAÇÃO DE SMALL INTERFERING RNA (siRNA) EM LIPOSSOMAS CATIÔNICOS E PARA TRANSFECÇÃO IN VITRO DE CÉLULAS DE MAMÍFEROS DESTINADOS À TERAPIA GÊNICA | CIÊNCIA E ENGENHARIA DE BIOPROCESSOS E BIORECURSOS | ENGENHARIA QUÍMICA |
| MODULAÇÃO DE MONÓCITOS, MACRÓFAGOS E PERICITOS PELOS GENES DOS FATORES ESTIMULADORES DE COLÔNIA PARA TRATAMENTO DE ISQUEMIA DE MEMBROS EM MODELO MURINO | CIÊNCIA E ENGENHARIA DE BIOPROCESSOS E BIORECURSOS | ENGENHARIA QUÍMICA |
| Desenvolvimento de materiais micro e nanoestruturados visando aplicações de interesse biomédico (PRINT) | CIÊNCIA E TECNOLOGIA DOS MATERIAIS | ENGENHARIA QUÍMICA |
| DESENVOLVIMENTO DE MICROPLATAFORMAS BRAIN-ON-A-CHIP PARA MODELAGEM DO SISTEMA NERVOSO CENTRAL IN VITRO | CIÊNCIA E ENGENHARIA DE BIOPROCESSOS E BIORECURSOS | ENGENHARIA QUÍMICA |
| MICROFLUÍDICA COMO PLATAFORMA TECNOLÓGICA PARA NANO & BIOTECNOLOGIA | CIÊNCIA E ENGENHARIA DE BIOPROCESSOS E BIORECURSOS | ENGENHARIA QUÍMICA |
| INFABIC - INSTITUTO NACIONAL DE CIÊNCIA E TECNOLOGIA EM FOTÔNICA APLICADA À BIOLOGIA CELULAR | CIÊNCIA E ENGENHARIA DE BIOPROCESSOS E BIORECURSOS | ENGENHARIA QUÍMICA |
| PLATAFORMA MICROFLUÍDICO PARA TRANSFECÇÃO IN VITRO DE ESFERÓIDES DE CELULAS CANCERÍGENAS COM SISTEMA DE ENTREGA DE GENES COM BASE EM LIPÍDIOS | CIÊNCIA E ENGENHARIA DE BIOPROCESSOS E BIORECURSOS | ENGENHARIA QUÍMICA |
| EQUILÍBRIO LÍQUIDO-LÍQUIDO E PARTIÇÃO DE PROTEÍNAS EM SISTEMAS AQUOSOS BIFÁSICOS | TERMODINÂMICA | ENGENHARIA QUÍMICA |
| CO-CULTIVO CELULAR DE FIBROBLASTOS E QUERATINÓCITOS EM MATRIZ EXTRACELULAR COMPOSTA POR BIOMATERIAIS MICRO MOLDADOS POR DISPOSITIVO 3D. | CIÊNCIA E ENGENHARIA DE BIOPROCESSOS E BIORECURSOS | ENGENHARIA QUÍMICA |
| COOPERAÇÃO INTERNACIONAL - MSCA-ITN-ETN (MARIE SKŁODOWSKA-CURIE INNOVATIVE TRAINING NETWORKS (ITN-ETN) | PROGRAMME | H2020 | CORDIS | EUROPEAN COMMISSION (EUROPA.EU)), COM ACRÔNIMO "PICKFOOD" | CIÊNCIA E ENGENHARIA DE BIOPROCESSOS E BIORECURSOS | ENGENHARIA QUÍMICA |
| M/D/PD | Orientações concluídas: |
| --- | --- |
| D | Aline Furtado Oliveira |
| M | Aline Furtado Oliveira |
| M | Amanda Costa Silva Noronha Pessoa |
| D | Caroline Casagrande Sípoli dos Reis |
| PD | Caroline Casagrande Sípoli dos Reis |
| M | Franciele Flores Vit |
| M | Gabriela de Sá Cavalcanti Corrêa |
| M | Maria Fernanda Pescarini Filippi |
| D | Micaela Tamara Vitor |
| M | Micaela Tamara Vitor |
| M | Rafael Henrique de Freitas Zompero |
| M | Thays França Naves |
| D | Tiago Albertini Balbino |
| M | Tiago Albertini Balbino |
| M/D/PD | Orientações em andamento: |
| --- | --- |
| D | Amanda Costa Silva Noronha Pessoa |
| D | Bruna Gregatti de Carvalho |
| D | Daniel Pereira Sacomani |
| M | Elaine Cristina Batista da Silva |
| D | Franciele Flores Vit |
| D | Ismail Es |
| D | Maria Fernanda Pescarini Filippi |
| D | Priscilla Cibelle Oliveira Souza Firmino |
| D | Thays França Naves |
| PD | Thiago Bezerra Taketa |